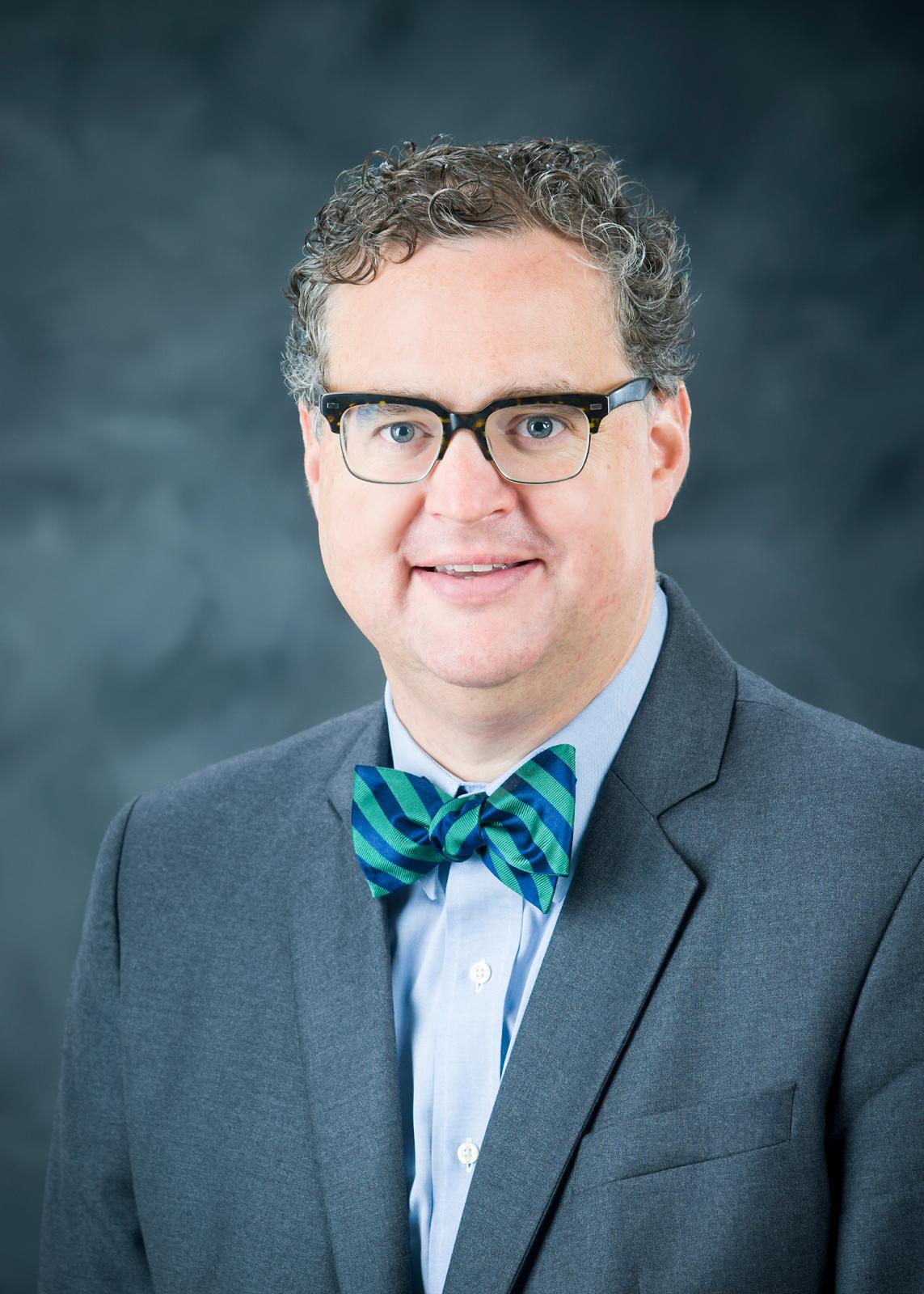 By James C. Giesen, associate professor, Department of History
I'd never used a Jumbotron before. But on the first day of my Modern U.S. History class this fall, there was a lot that was new. As class began, I stood at the center of Mississippi State's Humphrey Coliseum, the basketball arena with a capacity of 10,000, and watched as my roughly 900 masked, physically distanced students filed in.
Above me was the bright screen of the four-sided scoreboard. It usually shows replays of dunks and three-pointers, but that first morning it broadcast four striking images that I chose to set the stage for the semester. [Image 1 and/or 2] The first was a photo of Robert E. Lee's towering Richmond, Virginia statue, covered by graffiti, with a striking portrait of Harriet Tubman projected onto it. Next to Lee was an image from the 1918 flu pandemic of two masked people, one holding a sign that reads "Wear a mask or go to jail." Third was civil rights icon John Lewis's Jackson, Mississippi, mugshot from his time as a Freedom Rider. The last photo was NASCAR driver Bubba Wallace wearing an "I Can't Breathe" t-shirt and American flag mask. I wanted the images not only to set up the content of our semester, but also to remind my students of the historic moment that they were living through.
Indeed, it had been quite a summer. These undergraduates, most of them brand new to college life, had their high school proms, graduations, and summer jobs evaporate because of COVID-19. They'd replayed the horrific footage of the murder of George Floyd on their phones and many had reacted by marching through their hometowns. The images of mask wearers,
Robert E. Lee, and John Lewis side-by-side on the Jumbotron connected their summers to the very history that we'd be studying this fall.
College students sometimes complain that history is hard to learn because it's so remote and distant. But not anymore. I only had one point to relay that first day: this is it. I put it on the Jumbotron—just those three words in white across a black screen. [Image 3] Sitting in a basketball arena wearing a mask to take a college class meant no longer feeling detached from the mammoth forces of political, economic and social history bearing down on us. Seeing first-hand millions of Americans take to the streets to protest injustice meant students couldn't claim any distance from history because this is it.
That first day, I paced back and forth on the court's sideline giving them example after example of moments in American history when people just like them had had their lives forever disrupted by forces beyond their control. College kids drafted, handed a uniform and a rifle, and sent across the globe to fight a war. High school students escorted to class by the National Guard to protect them from their own classmates. Students kept from proms and dances because of who they wanted to dance with. I tried to convey that, when viewed through the lens of history, the enormous challenges my students face appear not as insurmountable, unique obstacles, but as problems very much akin to those Americans have faced for centuries.
But what I've come to learn since the semester began is that my students might not even have needed this reminder. The most surprising result of teaching in a gymnasium during a pandemic is a weird contradiction: this is the hardest I've ever worked on a class but it's the easiest time I've had reaching the students. The logistics of safely moving and seating this many students, coordinating 15 teaching assistants, watching for masks, and yes, operating the
Jumbotron, are significant. More importantly, however, I have a class of engaged students, women and men eager to think about the past in ways that I've never seen before. They want to make connections to the past to help understand their lives today. They know that studying history isn't some abstract pursuit. This is it.